We help your business grow
Increasing the margin on every sale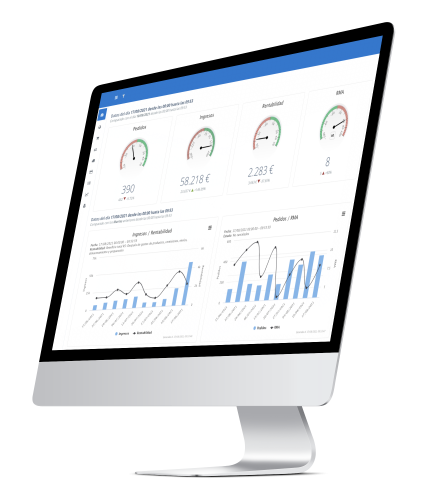 Reduce your transportation costs by optimizing packaging, using the best carrier, actively tracking and automatically reconciling invoices
Improve your efficiency through automatic order error detection, automate your returns, control your margins and manage your marketplace sales
Save time by managing your catalog from a single place, adapt and publish your catalogs on different marketplaces automatically and manage your stock and reservations in real time.
Study your real profitability, analyze sales, returns and trends, compare data, solve inefficiencies and stay ahead of the competition through dashboards, graphs, reports and metrics.
We have a custom solution for you

DO YOU WANT TO SELL SUCCESSFULLY SUCCESSFULLY THROUGHOUT EUROPE?
ARE YOU A MANUFACTURER, IMPORTER OR DISTRIBUTOR?
We provide comprehensive and customized solutions that enable companies to promote their products and services, and make the most of technology to improve their performance and efficiency.
In an increasingly competitive world, support in these areas can make the difference between success and failure.
MY SMART VENDING ECOMMERCE AND LOCKERS
A SPACE TO SELL, STORE AND DELIVER IMMEDIATELY
You will have access to lockers in strategic locations where you can sell, store and distribute your high turnover products. Rolando takes care of multi-warehouse logistics optimization.
Some of our customers who are already growing with Rolando.digital